Children Programs


These library programs are designed for the library's youngest readers!
**Library Programming will take place either IN-PERSON or VIRTUALLY. Please view the program description below for more information. All programs are subject to change.*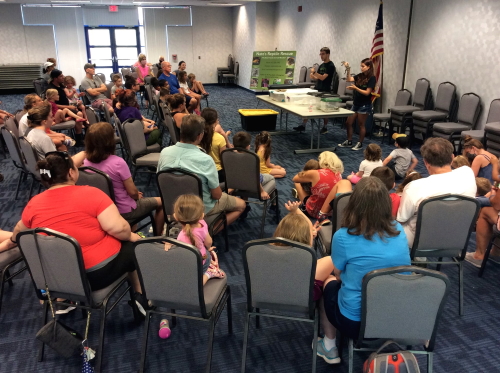 Register for a Children's Subscription Bag!

Lego Nite - Open the Magic (In-Person)
Thursday, September 23rd at 6:30pm

Children are invited to join us for our magic-themed "Lego Nite." The Library will supply the Legos and you will need a great imagination. We will finish with a friendly game of Lego Bingo with a special prize! Space is limited! Please register for this program online here.
Park Rangers - Cascades
Friday, September 24th at 6:00pm
Will meet at Oliver Miller Homestead parking lot

Join us for this educational stroll through the park! We will start at the Oliver Miller Homestead parking lot and finish at the reconstructed South Park Cascades, the newest part of the park everyone is waiting to see! Space is limited! Please register for this program online here.
Play, Learn, and Grow Storytime @ the Library (Ages 2-5) (In-Person)
Tuesday, September 28th at 11:00am
We will have various books focusing on the National Day theme for the upcoming week-end, for everyone to enjoy! Each week, a different child will have the chance to introduce themselves to the group. The children will also have the opportunity to learn the "SIGHT WORD OF THE DAY". Plus, there be trivia and worksheets. We will finish up with our Freeze Song…then move to the crafting tables to break out the scissors and crayons!

Please register for this storytime online here.
Stories, Songs & Stretches Storytime (Ages 0-2) (In-Person)
Wednesday, September 29th at 10:30am
We invite babies through 2-year olds (with caregivers) to chime right in to this music and dance class. We will start by "Shaking Out Our Sillies." Then we will read a few special National Day themed board books. Next, everyone will get the chance to break out the musical instruments for tons of fun. Your baby is going to love the Great Get Outside activities to try at home. Stories, Songs and Stretches would not be complete without the song…Head, Shoulders, Knees and Toes! What a fun way to spend the morning together!  We will introduce some S.T.E.M. to the children too.

Please register for this storytime online here.
Crafty Chaos for Kids (In-Person)
Wednesday, October 20th at 6:30pm
Do you like making crafts and using your own creativity? Join us for our first ever Crafty Chaos event! We will provide all different types of craft materials for you to make your own one of a kind creation. We'll also provide examples of past crafts in case you need some inspiration! This event is for CHILDREN IN GRADES 2-5. Registration is required and space is limited. Please register for this craft online here.
Starry Night Storytime with Miss Joy (In-Person)
Monday, October 25th at 6:30pm

Children in preschool through first grade are invited to join us for an evening storytime. This storytime is perfect for working parents and caregivers. We will sing some songs, read a few books, and do a simple craft. Space is limited and registration is required. Let's reach for the stars together! Please register for this storytime online here.
Kids Halloween Event
Tuesday, October 26th at 11:00am
In the Community Center
We will have the Community Center for everyone to spread out, have fun and be safe! When was the last time your child got to see a puppet show, how about a Halloween puppet show? The kids will love the story of Inky's Black Cat Blues. The puppet show will last about 35 minutes. Then one lucky child will win the Halloween Cat basket as a special Halloween Treat. This is one storytime that the kids will not want to miss!

After the show, the children will parade around the South Park Municipal Complex (Police Station, Township Office and the Library) to collect a few goodies along the way The program starts in the South Park Community Center and costumes are encouraged!

Please register for the Halloween event online here.
© 2021

South Park Township Library, 2575 Brownsville Road, South Park, PA 15129 | 412-833-5585 | southpark@einetwork.net